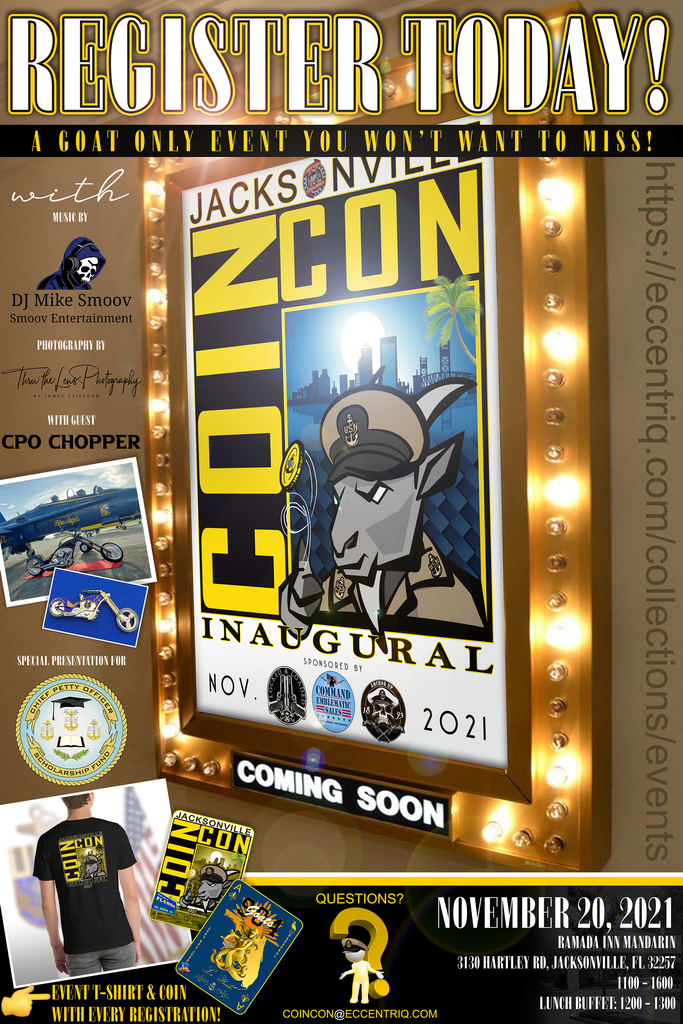 ❗️❗️❗️ JACKSONVILLE COINCON 2021 Update ❗️❗️❗️
🇺🇸❗️❗️❗️
REGISTRATION
IS STILL OPEN❗️❗️❗️ 🇺🇸
Preparations have been well underway and many are taking advantage of our EARLY BIRD registration for this event!

Come join us and our CPO Brothers & Sisters around the fleet, Active & Retired alike, for an awesome time to reunite, network, catch up, and best of all trade, buy and sell some heavy metal and swag! 💪🏽 🇺🇸
We look forward to seeing you and your command there!
WHAT: INAUGURAL JAX COINCON 2021
WHERE: Ramada Inn Mandarin - 3130 Hartley Rd, Jacksonville, FL 32257
Entertainment By: Smoov Entertainment - Mike "DJ Mike Smoov" Mitchell
Option 1: Just Show Up. No fee! No event swag!
Option 2: Event T-Shirt & Coin
Option 3: Event T-Shirt, Coin & Food Buffet (Buffet Served 1200-1300)
Vendor Tables: 45 Tables Available
Small Businesses: $75 (One Event Coin Included)
Active Duty Units: $50 (One Event Coin Included)
😂💥🏢  
HOTEL ROOM INFORMATION & COMEDY CLUB
🏢💥😂
For those who are traveling in from out of town or simply want to make the afternoon an evening "
Date Night
" and have some fun, below you will find the information necessary for the RAMADA's special room rates and
Comedy Zone - Jacksonville
's tickets to see comedian Trevor Wallace.
🏢 🏢 🏢  
HOTEL ROOM ACCOMMODATIONS
🏢 🏢 🏢
Dates of stay: November 20, 2021 (Saturday)

Rates: - $96 Kings/$106 x2 Queens + 13.5% Tax for up to two adults; Kids stay free up to 17 yrs. old ($10.00 for each additional adult up to 4/room)

Cutoff date: November 06, 2021. Rooms not booked from the group hold will be released.
To make a reservation:
Go to:
www.jaxramada.com
Click on the link that says: "
Book With Your Group Code Now
" . Then fill in the request form with all of your group information.
You will receive a confirmation number within 48 hours of booking. Or you can call (800) 393-1117 and mention "COINCON Room Block" group (Questions? Contact Mr. Sergey Tonakanyan (904) 694-4303).
MUST HAVE CREDIT CARD INFORMATION TO RESERVE ROOM
Checkout time: by 11:00 am
Cancellation Policy:
24 hours prior to check-in time without penalty. (One night's charge)

Hotel has two floors and no elevator.


Each room is Non-Smoking and includes a
Free Breakfast
, Free Wireless Internet, Microwave, Fridge, Free access to Fitness Center, Free access to Business Center, and Outdoor Pool. The property has an on-site Restaurant, Lobby Bar, and Comedy Club.
😂  😂  😂  COMEDY SHOW  😂  😂  😂
Two shows on the evening of the 20th of November.
The Comedy Zone is located inside the RAMADA. You will be able to attend COINCON, LAUGH, EAT & SLEEP all under one roof!
---